Media Cloud 3.1.6 Released
This new release of Media Cloud features a lot of enhancements to existing features, specifically to uploading and direct uploading.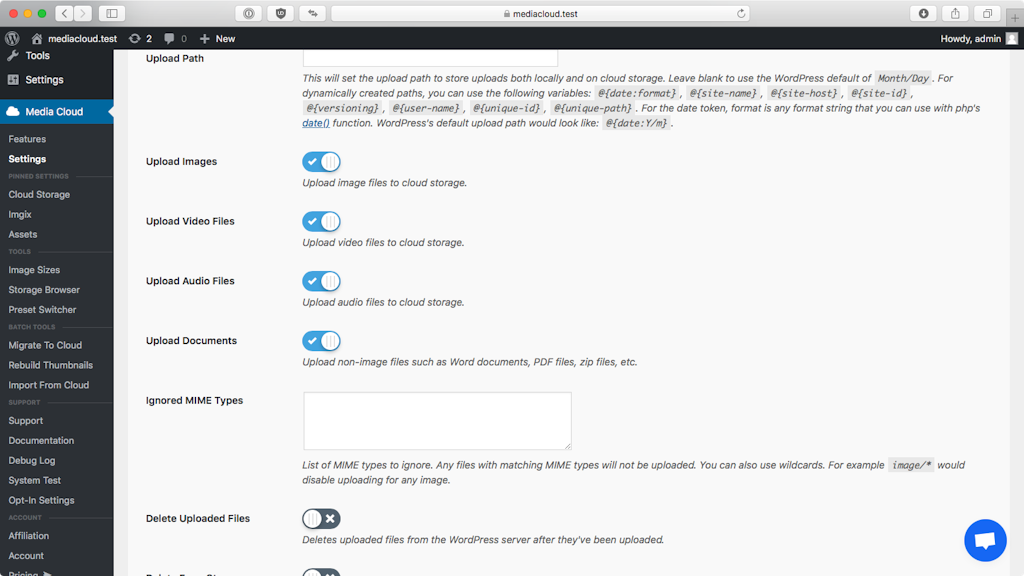 Cloud Storage Updates
New in this release is the ability to specify which types of media we upload to cloud storage and which we keep local on the server. You can toggle on or off 4 broad categories: images, videos, audio and documents. You can narrow that down further by specifying MIME types to ignore.
---
Direct Uploads Update
We've also enhanced Direct Uploads in this release as well. Rejoice because Imgix or Dynamic Images are no longer required to use direct uploads, though you will have to have one of those enabled for direct uploads of images to work.
Like with the cloud storage settings, you can now specify what types of media get uploaded directly to cloud storage and which types of media get uploaded to WordPress.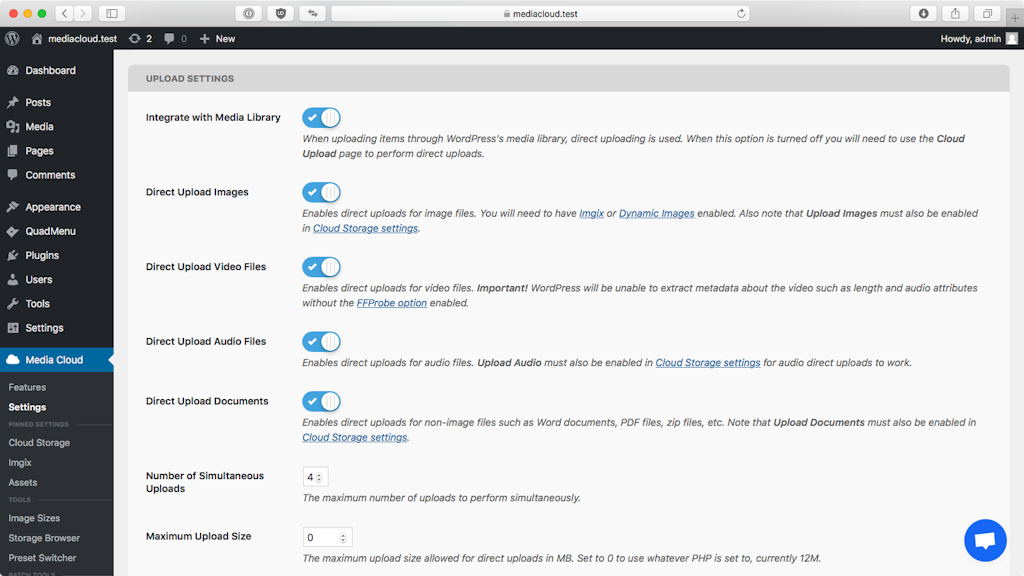 Previously, direct uploading of audio files didn't extract album art or any ID3 metadata, because that's a function WordPress normally does. But in 3.1.6, album art and metadata are now extracted in the browser prior to uploading to cloud storage.
Unfortunately, we can't do the same thing with video files, however we've provided an option to still allow direct uploads and to still extract video metadata by using FFProbe, an open source tool that ships with FFMpeg.
Additionally, you can now override the maximum size of an upload when doing direct uploads.
Integrations
Media Cloud 3.1.6 adds two new important integrations: Blubrry Pod Casting and LearnDash. With Blubrry Pod Casting, you can now use the WordPress media selector to select your audio file when create a podcast, enabling you to use Media Cloud for storing your audio on the cloud. The LearnDash integration fixes a font issue and enables using cloud based images in course certificates.
---
What's New
Ability to specify which type of media are uploaded to cloud storage or not, for example you can configure Media Cloud to only upload audio to cloud storage.
Ignored mime types in cloud storage settings now supports wildcards, eg `image/*` to disallow image uploads
Display relevant warnings for enabled tools that require another tool that is disabled
When uploading to cloud storage, file size is now recorded properly in attachment metadata
Updated documentation
Vision tool has a new option for forcing term counts to update when using tagging. WordPress usually only counts "attached" attachments in term counts, but this option circumvents that.
LearnDash integration fixes font errors and allows remote images to be used in certificates
Blubrry Pod Casting integration allows you to select media from the WordPress library when creating a new episode
Direct uploads no longer require Imgix or Dynamic Images to be enabled
Ability to specify what kind of media is uploaded directy to cloud storage and which is uploaded to WordPress
For Direct Uploads, ability to specify the maximum allowed upload size
What's Fixed
Fix for Human Made S3 Uploads migration
Fix for importer ignoring certain mime types (Pro Version)
When performing a direct upload, Media Cloud first checks that the upload file name is unique, and if not, will add a unique part to the original file name